Know Your Thermostat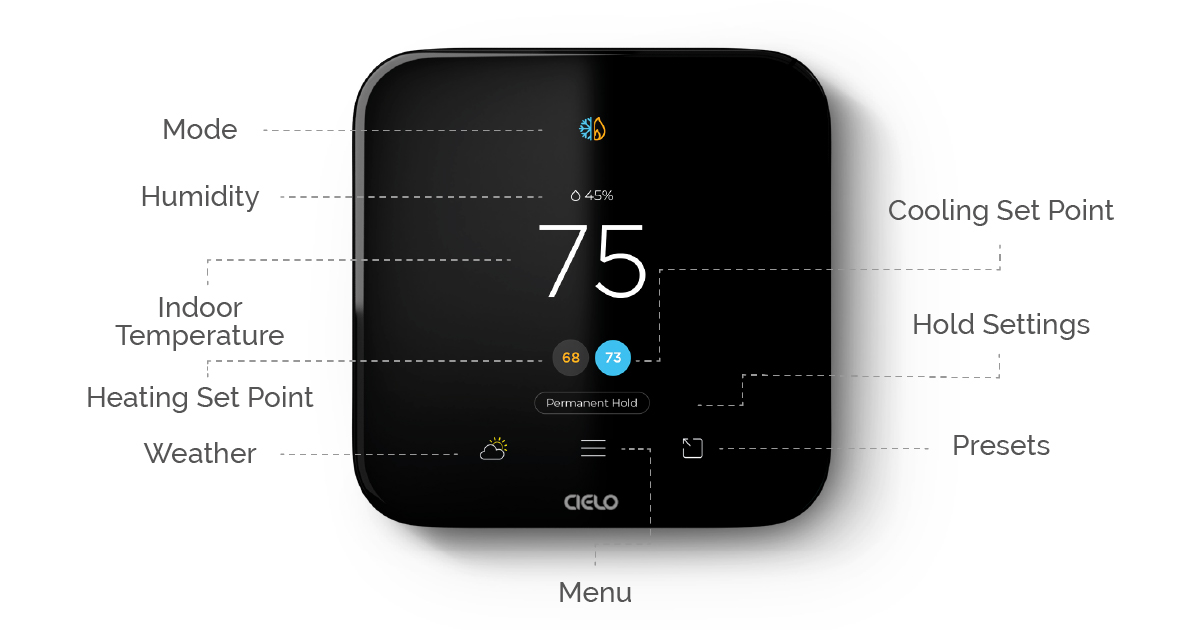 Mode 
Indicates your current thermostat settings (Heat/Cool/Auto/AUX/Off). Tap on the mode icon and select your preferred mode.
Humidity 
Displays humidity levels in your home.
Indoor Temperature 
Displays your current home temperature.
Set Point 
Shows temperature set point. Set your preferred temperature by tapping on it and then use the up & down arrows to adjust. 
Hold Settings 
These settings let you hold the current Mode & temperature for a desired period of time.
A. 'Hold till next schedule' lets you hold the current settings until the next schedule begins (if any).
B. 'Hold till a specific time' lets you hold the current settings for a specific time from 1 hour until 24 hours.
C. 'Permanent Hold' lets you hold the current settings until you manually change them.
D. 'Do not Hold' will not hold the current settings. Your schedules or geofencing will work as intended (if any). 
Weather 
Shows the current weather of your area plus a 7-day forecast.
Menu 
Allows you to adjust all system settings, device preferences, and more.
Presets 
Gives you quick access to Home/Away temperature and fan settings.
You can set different settings for when you are home or away and for different times of the day. You can select your preferred Preset with just a tap. There are 4 default Presets, 'Home', 'Away', 'Sleep', and 'Pets'. You can have a total of 10 Presets at a time.