Cielo Breez Plus is compatible with more than 500 air conditioner models that support Freeze Protection mode through their remote control.
Please follow the below-mentioned steps to activate Freeze Protection mode in your Cielo Home app.
In case you're an existing user & have this function on your AC's remote:
Step 1: On the Home screen, tap on the Breez Plus device you want to activate Freeze Protection on.
Step 2: Tap on the 'Up' arrow as shown to show the bottom drawer panel.
Step 3/4: Tap on 'FP' to activate Freeze Protection. To deactivate Freeze Protection mode, tap again on 'FP'.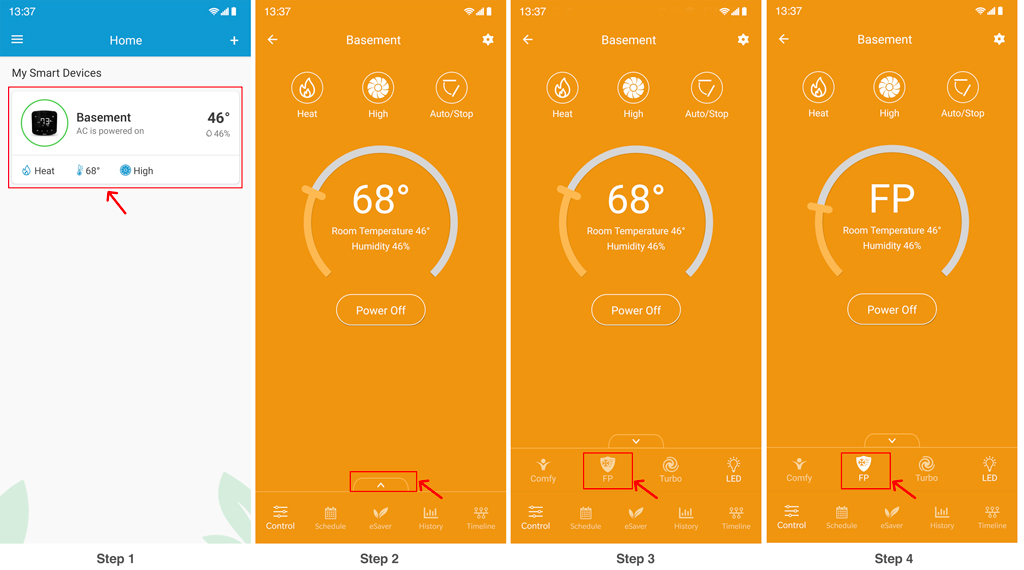 Note: You have to be using your air conditioner / heat pump in Heat mode to activate Freeze Protection mode.
If you are a new user, simply install the 'Cielo Home' app and register your Cielo Breez Plus device.
After you are done with the initial setup, follow these instructions for using FP mode:
On home screen, tap on the air conditioner for which you want to turn on the FP mode.
On control screen, turn power on, switch to heat mode, and tap on the slider option (up arrow icon).
Now you have the options on screen, tap on 'FP' to activate it.
For more details, please email us at support@cielowigle.com, phone at +1 425 529 5775 or visit our website.